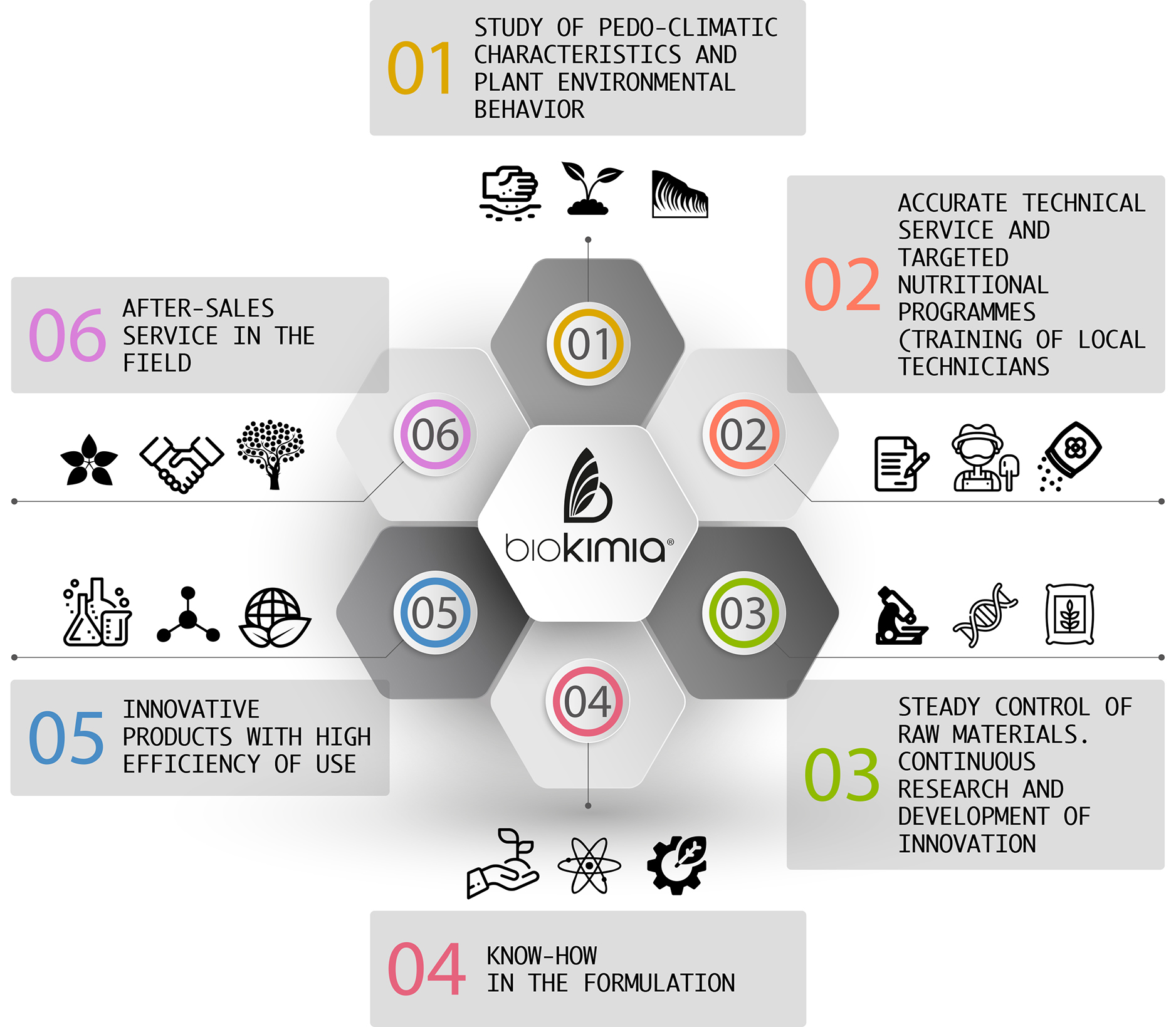 THE BEST SOLUTIONS FOR PLANT NUTRITION
F&P INVEST S.rl., through the Biokimia brand, proposes the best solutions for plant nutrition by producing special fertilisers for an advanced agriculture regarding fruit, horticultural, ornamental and extensive crops.
Targeted and personalized plant nutritional programmes
Biokimia's technical staff processes targeted and personalized plant nutritional programmes capable of satisfying the most diverse cultivation needs after a careful analises of:
the pedo-climatic characteristics of the specific environment;

plant

physiology;

genetics and health conditions of the plant.
Following the nature without modifying it, finding the right balance and preventing stress are the best ways to achieve sustainable agriculture.

Advanced technologies
Biokimia looks for the best solutions for plants nutrition monitoring the raw materials global market selecting innovative and technologically advanced products.
The production of fertilizers is realized only after a careful choice and after a constant control of raw materials purchased by the Quality Control Department - 'QC'.
The production processes for realizing fertilizers have constantly evolving technology which are subjected to periodic checks to improve production performance and quality (know-how in the formulation).
The formulas and production methods are scientifically accurate and always in continuous development, an activity carried out by the Research and Development Department - "R&D".
Natural substances and fertilizers of of the future
While carefully monitoring the production and sale of products already tested, Biokimia is constantly looking for new innovative substances to be introduced in agriculture. As well as for particular mineral fertilizers, studies and research are aimed at obtaining natural organic substances, capable of biostimulating the metabolism of plants, nourishing and protecting them in a natural way.
The purpose is to produce special fertilizers for plant nutrition that have the maximum "efficiency of use", which make plants achieve high production yields, both quantitative and qualitative, and considerably reduce the impact on the environment.

Biokimia works on plant physiology to understand their nutritional and metabolic needs in the various phenological phases and in the various environmental conditions. It studies how to raise the natural plant defenses and how to get more compact, robust and more resistant plants to environmental adversities and diseases caused by fungi and bacteria.
Biokimia offers after-sales services to affiliated resellers and careful technical service to end users in common agreement with resellers.
BIOKIMIA NOT ONLY PRODUCES
INNOVATIVE FERTILIZERS
BUT ALSO OFFERS A COMPLETE SERVICE TO AGRICULTURE